merry christmas, friends!!
i hope y'all have a fabulous day with your family & friends :)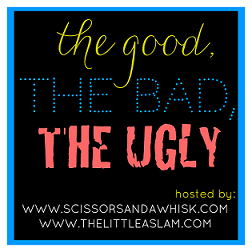 the good: well goodness, there is a lot of good today! it's christmas time, i get to spend time with a bunch of my family & friends and i'm probably going to eat way more than is good for any human. and all of that, makes me SO happy! haha.
the bad: houston is seriously NOT getting the memo that it is december and christmas time. this 70-80 degree weather is just not cutting it for anyone, y'all. i mean people are walking around in shorts & flip flops instead of boots & scarves. what a mess.
the ugly: my stretchy pants might not fit after this week. i'm not even joking. i have been quite literally stuffing my face with every single thing i can find to eat. and let's be honest, most of those things i'm eating are full of chocolate and sugar. mmm mmm mmmmmmmmmmm.
don't forget to grab our button & link up below :)
i hope you all have a fantabulous day full of so much love & laughter, friends.